What kind of RF Characterization services do we offer ?
AMCAD offers various measurements for RF/microwave semiconductor analysis, taking advantage of our measurement lab plus the high-level expertise of our team composed of RF engineers and PHDs. We provide :
S-parameter characterization service using 2-ports and 4-port vector network analyzers (up to 50GHz) for on-wafer or in-fixture devices
Pulse S-parameter measurements synchronized with AMCAD Pulse IV system for compact modeling of LDMOS  transistors or III-V components such as GaN transistors
Load Pull measurement services with fundamental and harmonic tuners, including active load pull techniques to plot iso-contours at high gamma reflection coefficients
On-wafer measurement at die level using automated probe station with hot and cold temperature control
RF noise figure measurements parameters (NF) and four transistor noise transistor parameters to find Gamma Opt  from source pull contours
Nonlinear RF measurement services such as IMD3, video-bandwidth characterizations, plus voltage and current RF waveforms measurement in the equivalent time domain
Complex RF digital modulation signal measurements using vector signal generators and spectrum analyzer (up to 43GHz) to measure Error Vector Magnitude (EVM) or Adjacent Channel Power Ratio (ACPR) on power amplifiers.
Depending on your applications, we also perform customized calibration and measurement sequences on-demand, which require the development of Radio Frequency Automatic Test Equipment (RF ATE) Systems for multi-port devices with analogic and digital signal controls.

The Advantages of Outsourcing Your RF/Microwave Measurements

Some guests like to outsource RF & MW tests to AMCAD when their lab is already booked, or when their team is already quite busy. If reaching a project milestone remains a critical point, our capabilities and our skilled team can help you to reach an important target before the dead line.
RF benchtop instrumentation could be expensive. Some of these instruments can cost up to ~$500K, sometimes it is more profitable to take benefit from our tools rather than consuming your budget in CAPEX.
AMCAD's RF instrumentation is always under an active maintenance program with up-to-date calibration status. This equipment is only used by experts, in order to make sure that a premium testing service quality is offered.
From time to time, to speed up their product development cycles, our partners want to try our solution as a first step. Depending on the amount of the investment needed, characterization services  are a smart way to evaluate the added value of our offer.

We are the first users of our solutions , and we can use them on your components. We are always pleased to welcome our clients to our lab to ensure their investment is worth the value.
What are the RF test benches used ?
We continuously invest in new equipment, such as 50GHz N5245B Keysight Technologies Vector Network Analyzers, NI PXIe 5646R RF Transceivers, SWM200A Rohde & Schwarz vector signal generators and FSW 43.5GHz signal analyzers, MPI TS2000  wafer automated RF probe stations, various Maury Microwave impedance tuners for load pull and recent calibration kits, and last but not least, AMCAD 3200 Pulse IV measurement systems and BILT modular DC Power supplies.
This RF test equipment allows us to provide information you can trust.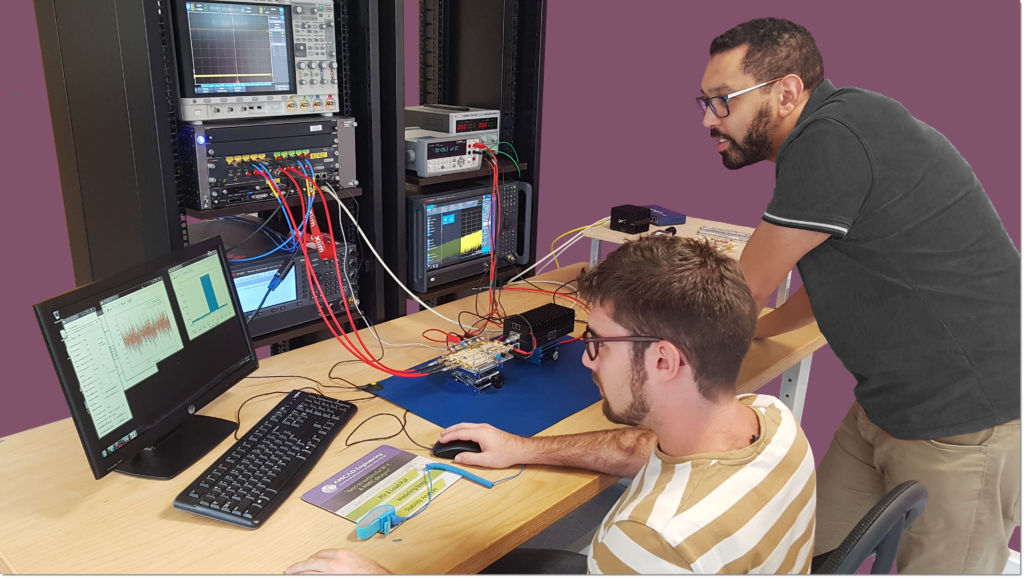 Can you import the measurement file in your simulation template ?
We put some emphasis on working with the main commercial RF simulators, such as ADS from Keysight Technologies or AWR Cadence. We support these tools when the test results have to be leveraged for advanced RF designs. In addition, our Whiteboard enables an easy management of all this information. Specific templates can be created in order to simplify the analysis and create some interactive reports you can share with your colleagues.
We also use our own solutions to turn these results into equivalent RF transistor compact models or RF behavioral circuit models to strengthen your product design flow.
Can we measure die or packaged components ?
With a suite such as IVCAD for on-wafer component testing and modeling, or IQSTAR for RF power amplifier measurements, our RF wafer probe stations, and many other package-level solutions, we provide an extensive set of calibrated RF measurement services at the DUT reference plane with proper RF de-embedding methodologies.
How to measure RF Power Amplifier with 5G FR1 and FR2 modulated signals?
We own brand new RF and microwave measurement instrumentation. They are fully loaded with software options that enable advanced RF measurement capabilities. Figure-of-merits such as EVM or ACPR characteristics are measured with 5G modulated signals using different modulation and demodulation schemes to match your applications.
Thanks to the IQSTAR software platform, we can evaluate the linearity performed with different RF modulations under Digital Predistortion (DPD) operating conditions.
To run tests as if the PA was embedded into an RF Remote Radio Head installed on a Base Station, we enable 5G measurements with RF COST transceivers for ADI driven by Ultrascale Xilinx FPGAs.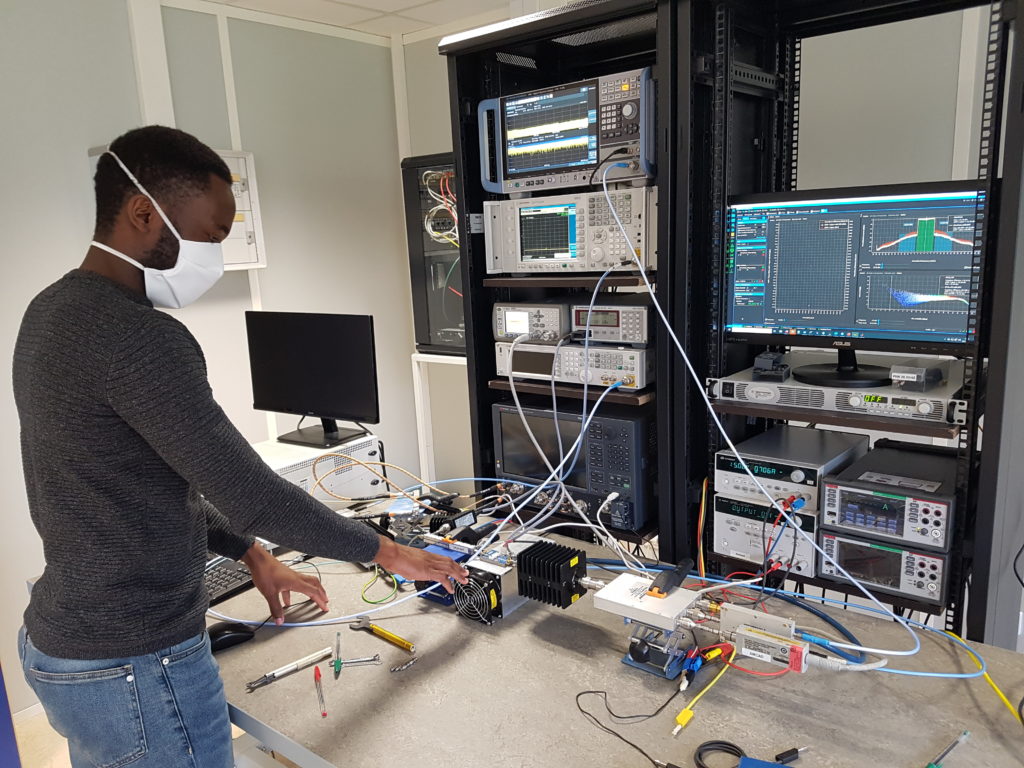 We continue to extend our service offer as a function of your needs continuously, so please contact us if you have any requests