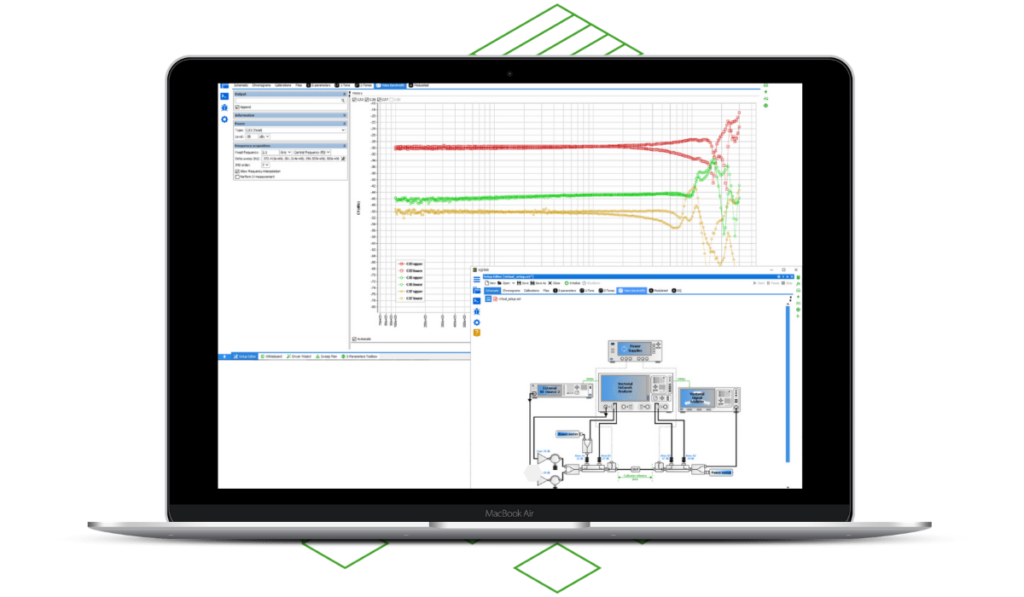 Laboratories are usually equipped with multiple instruments from different vendors and different models. The instruments composing setups can be different from bench to bench, but the measurements need to be coherent. The measurement methodology should be identical, and data post-processing should be uniform. PA designer time is better used at tuning Power Amplifiers than debugging software and correcting instrument driver issues.
How does this solution solve well-known problems?
IQSTAR allows the refinement of RF power amplifier's performances. An agnostic control of measurement equipment is provided for both emission and reception modes. Connect your equipment and let IQSTAR run the test sequence. Driving a whole set of DC and RF instruments, including a probe station, will be easy. Standardizing test benches even with instruments of different brands is no longer an issue, whatever the configuration.
From one configuration to another, the software considers that all instruments are equal, leveraging the company's CAPEX investment and unifying the test procedures in the different labs.
Thanks to a simplification of the calibration procedure driven by a step-by-step wizard, test results are reliable and consistent frome one test bench to another, regardless of the instruments used or the person in charge of measurements
Stop wasting time waiting for the end of a full test session to find abnormal results. The real-time visualization of the results according to your criteria will help you stop, modify or refine the measurements in progress in real-time.
Evaluating the performance of an RF power amplifier requires many steps to get a full scope of all the specifications. Several measurement configurations are required. IQSTAR covers measurement processes like 1-Tone CW and Pulsed CW, 2-Tone using a scalar or vectorial setup, modulated signal characterization and IQ signal analysis. All of these processes run under IQSTAR using a single bench architecture in a single pass.
Time spent in homemade software development could be an obstacle if the need is to be focused on the key business that will create tomorrow's revenues, developing RF circuits. IQSTAR is a turn-key solution. It does not require programming skills, but all the conviviality, flexibility, and functionality of professional measurement software are at hand.
The little extras you've been waiting for
Automated report creation: Once the measurement sequence is done, get the report instantaneously and share this one with colleagues.
Speed: Time spent in the lab is an important parameter for the project cost. Measurements work is accelerated, even with complex modulated signals.
Single platform for the entire work team: streamline the measurement processes, increase team cohesion and productivity.
Customized measurement flow: Script and advanced functions can be leveraged by ready to use functions and sweep plan tools
Saved measurement configurations: Define the configuration of the measurement setup or the measurement sequence just once, reuse prior work at maximum
Wafer mapping: Drive automatic probe stations and automate the measurements to sort out the best candidate or to evaluate the spread of performances at the wafer level
Linear Stability: analyze these criteria in real-time, before, during and after high-power measurements
Export measurement files toward your ecosystem (custom CSV, MDIF file format,…)