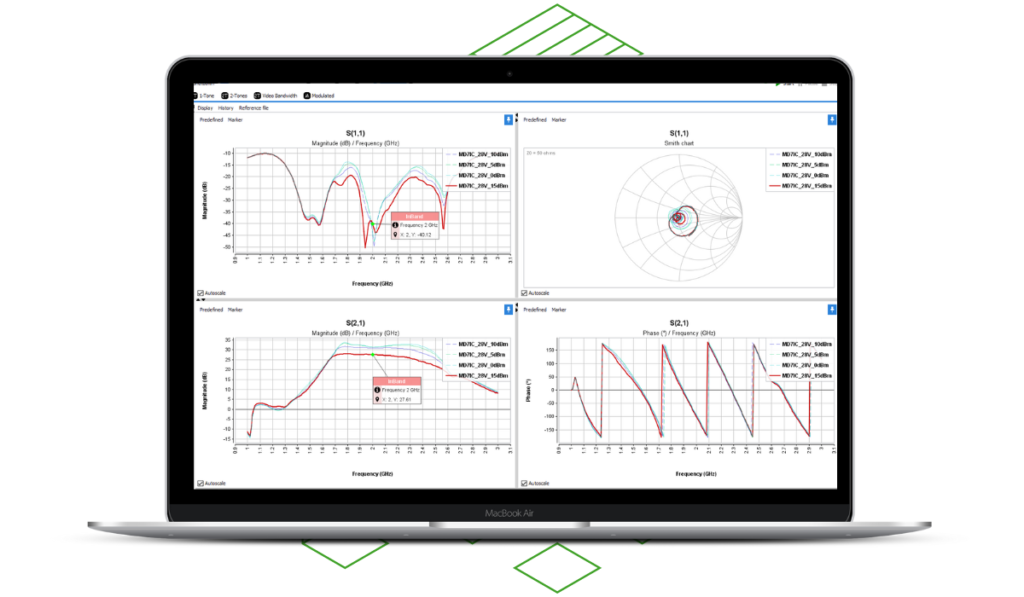 Increasing the amount of a product that a company can produce and deliver to a client within a specified time is critical. Therefore, Application engineers must increase the throughput of their PA measurements. On the other hand, customers' requests for additional measurements and specifications increase exponentially due to new applications. Automated test benches are mandatory to respond to the customers' requirements.
How does automation help you solve well-known problems?
Customizable test plans: Build advanced measurement sequences without any programming skills (drag and drop concept). It offers the conviviality and the flexibility of turn-key professional measurement software.
Fully customizable test plans via scripting: Experts will enjoy the flexibility offered by the scripting tool to program a test sequence with advanced hardware control.
Integration with third-party software using the script server: A homemade software can be paired with IQSTAR, driven in slave mode.
Custom graphical user interface using the Whiteboard editor: The interface leaves room for many possibilities to exploit the measurements thanks to the various filters, sliders and tables that can be applied to your data.
Test sequences can become a process: The same sequence can be reused from one bench to another. Sequence files are interchangeable.
The little extras you've been waiting for
Have you ever spent too much time doing multiple types of measurements? Just let the automation tool smooth this job. Start the automatic sweep plan and focus on more important activities.
Once the sweep plan measurement sequence is over, load the data and use a measurement template to analyze all the results at a glance.