We are excited to announce our new VISION Release (2.1) for advanced systems simulation based on realistic behavioural RF circuit models. Our valued customers' feedback helped us provide a list of enhanced functionalities to address better the challenges faced because of the increasing complexity of RF system design flows.
From VISION 2.0 to VISION 2.1
The new release of VISION includes a list of new features and some improvements:
Compatibility with simulation data provided by GoldenGate/cadence Virtuoso
Improvement of PA models with automatic settings
New export functionalities to third-party system simulators
Co-simulation feature: Third-party Matlab script import in VISION schematic editor
Compatibility of ANSYS SNP and ANTENNA blocks with the ANSYS electronic Desktop 2021R2 version
Customers with an up-to-date support contract can take advantage of multiple features, improvements and bug fixes once they upgrade their version of the latest one.
VIS100C-2 Device Modeler Add-On New functionalities
Compatibility with simulation data from Cadence Virtuoso Environement
VISION VIS100C-2 module now integrates a bridge to import circuit simulation data from Cadence Virtuoso RFIC Simulator run with the GoldenGate Harmonic Balance simulator from Keysigth.
The challenge here lies in integrating complex electronic functions in the same simulation environment to validate the consistency of the whole. This task requires importing, assembling and simulating circuits designed in various Electronic Design Automation (EDA) tools from different vendors. This first step can be even more complex when the need is to simulate an overall system made of different circuits when accuracy and computation time are important parameters. Indeed, the path between circuit simulations and system simulations is often addressed by co-simulation techniques to ensure a reliable bottom-up design flow. The use of Cadence Virtuoso at the circuit level provides the reference data that describes the RFIC behaviour. Nevertheless, regarding the simulation time, it does not make sense for our customers to go down to the component level if the need is to simulate an entire RF Front-End with complex modulated signals.
In this design process, VISION intervenes at several levels: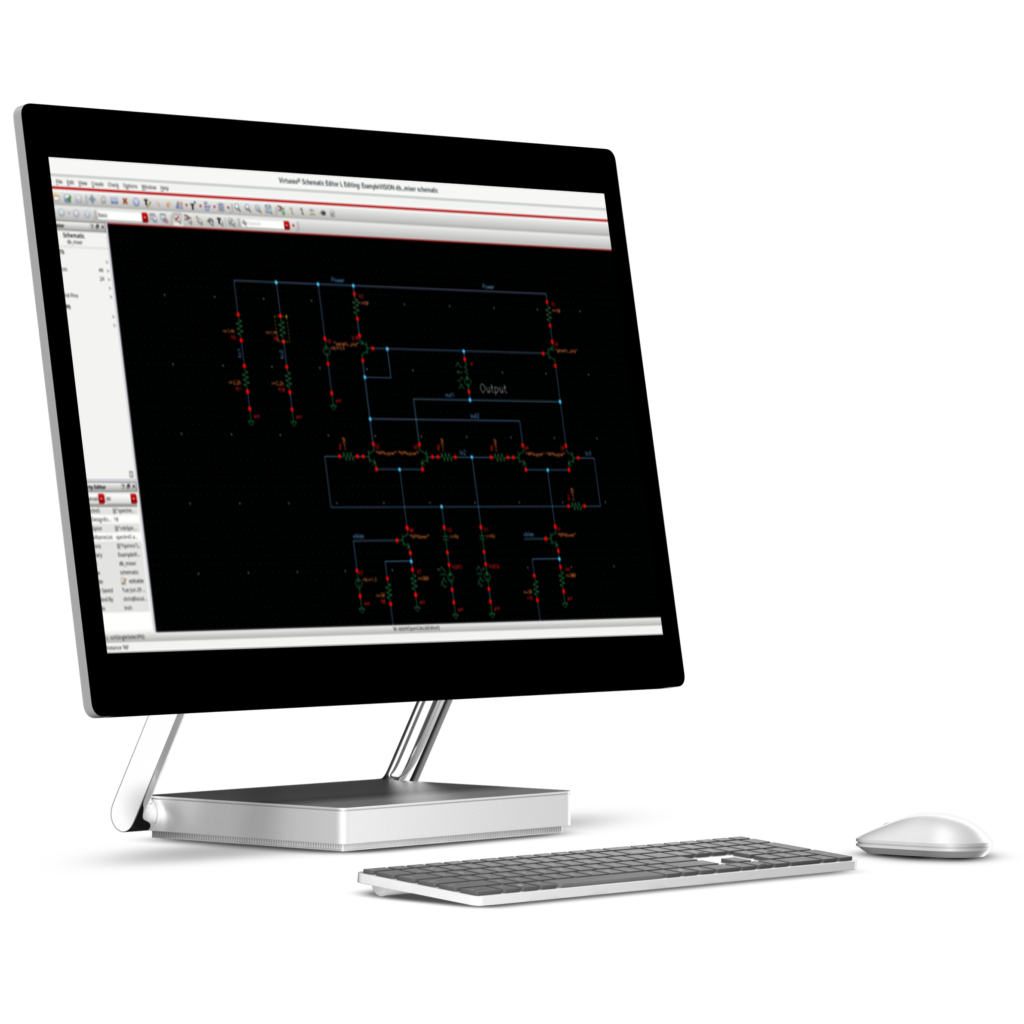 When the circuit is designed with Cadence Virtuoso, VISION offers a similar methodology to the approach carried out in measurements. This methodology uses the GoldenGate Harmonic Balance solver used by the RFIC simulator. The simulation results are used as input data to extract a second-level behavioural model for accurate system simulation.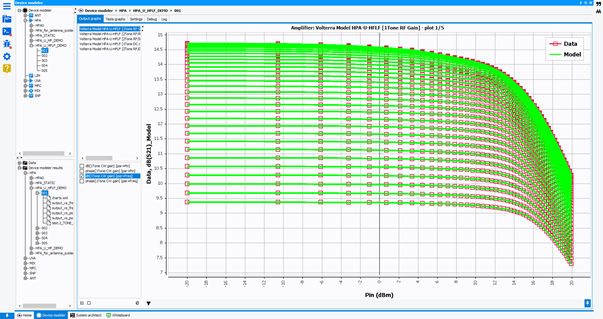 In a second time, VISION converts the data into an accurate behavioural circuit model used for accurate and fast data-flow system simulations. The performances of complex architectures can then be evaluated without compromise between speed and accuracy when the RFFE transmits digital wideband modulations.
Thanks to a powerful system schematic editor, a first system performance estimation can be done using the VIS100E VISION System Architect Module. Nevertheless, for customers already equipped with a 3rd-party system simulator, VISION's tools with embedded equation solvers can be imported and leverage the simulation toolbox.
Simplified guidance of RF PA behavioral modeling work
VISION VIS100C-2 module also integrates a new functionality to optimize HPA model parameters.
As it is not always obvious for a beginner to size its model complexity, with the right balance between simulation efficiency and accuracy, new settings are now offered to optimize the equation complexity automatically without reducing the model performance.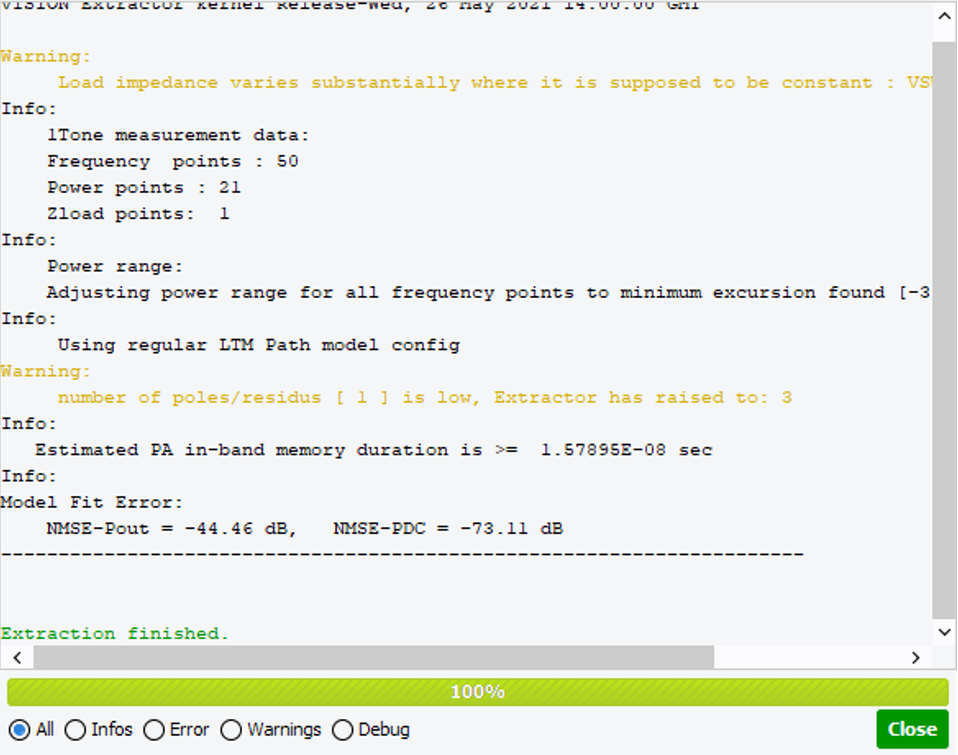 As a response to our customers' expressed needs, the aim was to facilitate the modelling flow of Power Amplifiers with complex behaviours, such as Doherty amplifiers which highlight double gain expansions. To reach this target, the RF Power Amplifier modelling toolbox has been improved to optimize the number of equation parameters easily while keeping a good fit against the reference data.
VIS100E System Architect New functionalities
New co-simulation feature: MATLAB script import in VISION schematic editor
The VIS100E System Architect module can now be linked to a MATLAB script. It enables different co-simulation processes.
A New API MATLAB feature allows creating custom models and signal processing algorithms and importing them as a user-defined MATLAB element directly into the VISION schematic editor.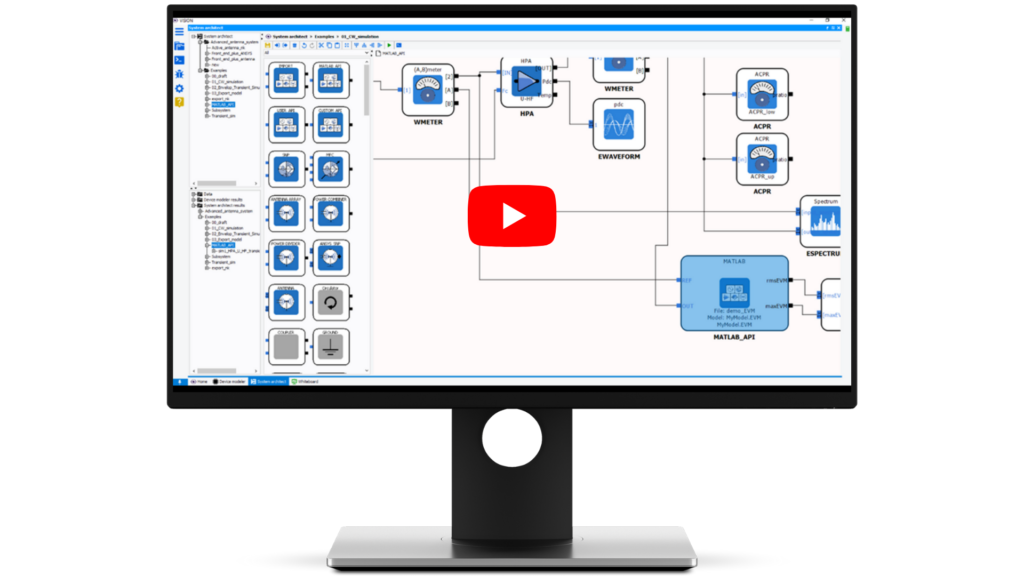 The aim is to take benefit of the advanced transient simulation capabilities of VISION associated with personalized MATLAB algorithms, which embed specific IPs for data processing
The example below describes a digital pre-distortion algorithm applied to a PA behavioural model to highlight the benefit of such functionality. The algorithm is developed using a Matlab script with 2 functions: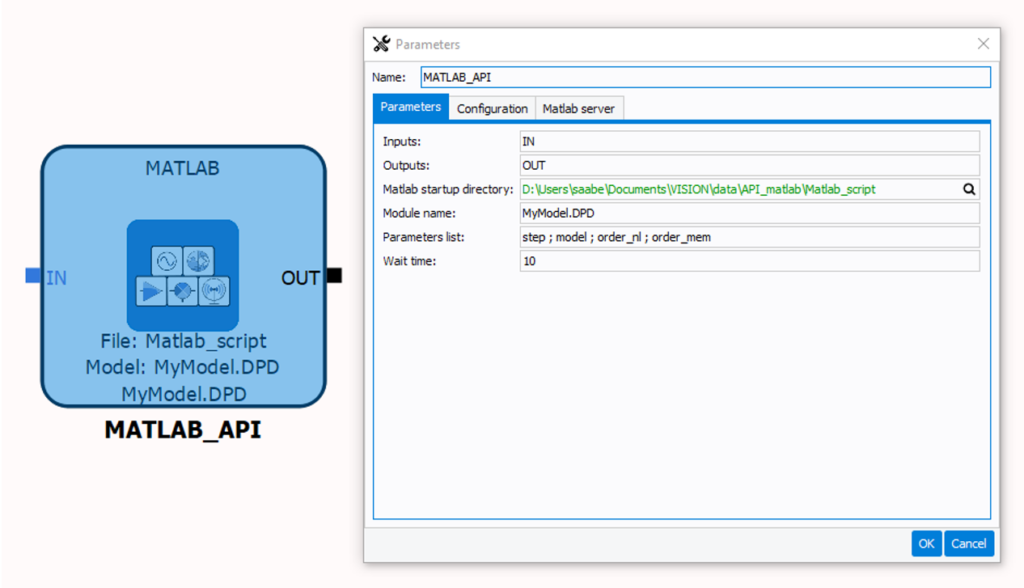 The first function describes a DPD algorithm using a memory polynomial model where the nonlinearity orders and the memory depth could be user-defined.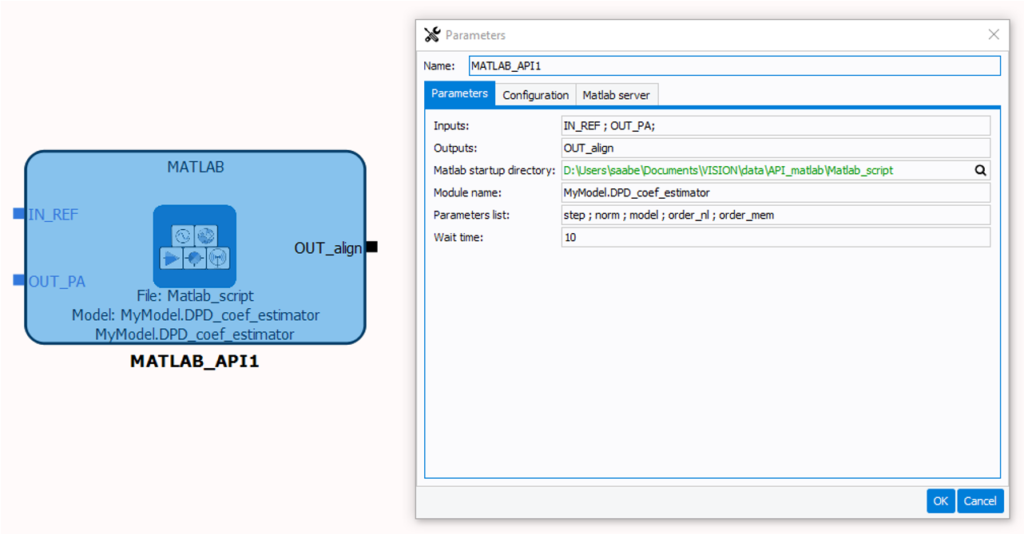 The second function estimates the coefficients of the DPD model.
These 2 blocks are then integrated into one VISION schematic to evaluate the DPD algorithm when used in a realistic PA model which has both short-term and long-term memory effects. The evaluation takes place in 2 steps: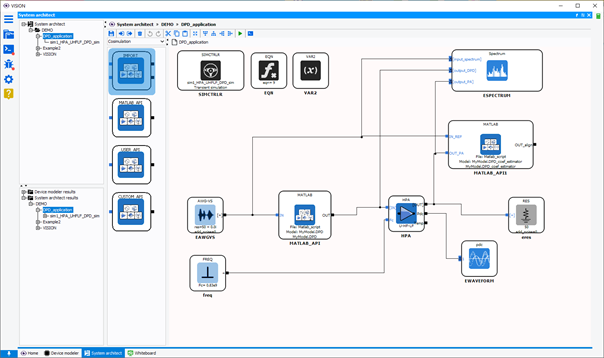 The first block simulates the VISION PA model to obtain the input and output signals, which are then used by the MATLAB script to calculate the coefficients.
The second carries out the global simulation of the DPD model applied to the VISION PA model.
The simulation results can be directly observed in the whiteboard visualization tool. The input and output spectra of the DPD block are depicted below, along with the output spectra of the PA.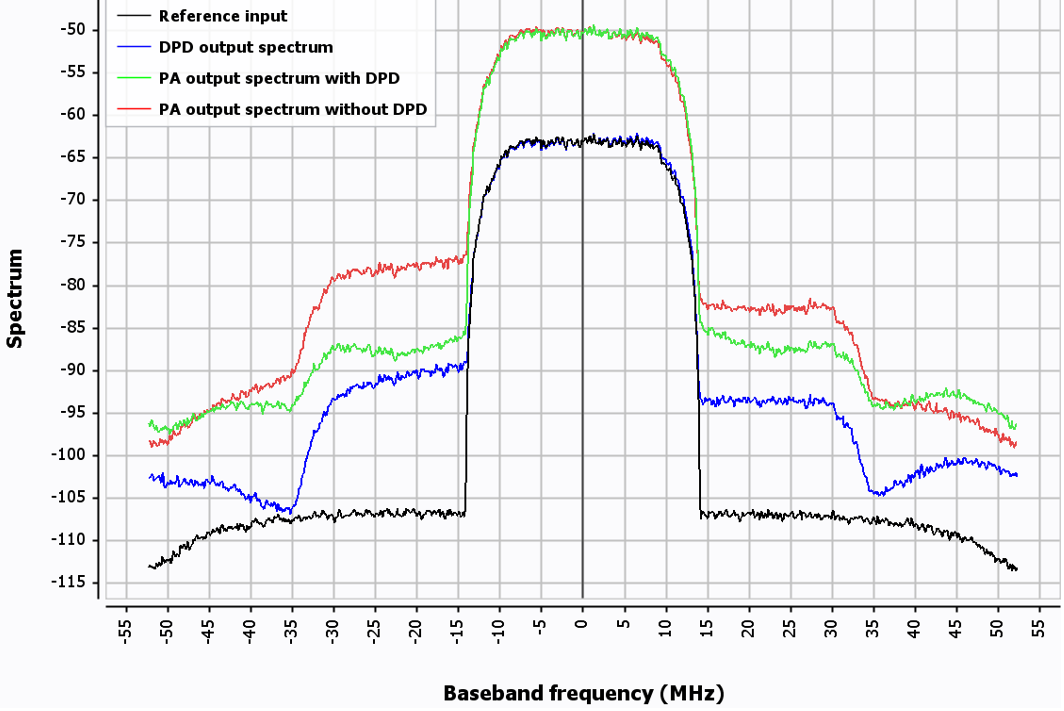 VIS100-F SYSTEM MODEL EXPORT New functionalities
Improved Model Export to Third-Party System Simulation Tool
The VIS100-F SYSTEM model export module now offers new export features to the third-party system simulation tool.
This option allows exporting the model of the entire system designed in the VIS100E schematic editor, toward an external system simulator, under the format of a macro-model. Indeed, some of our customers already have their preferred CAD tools. Nevertheless, to design 5G systems where wideband modulated signals are used or to evaluate the overall performance of an active antenna associated with an RF front end, as a MIMO system, simplistic RF circuit models cannot be used anymore.
Because the VISION's Macro-model embeds its equation solver, the same precision in the third-party system simulator can be obtained, even if the latter simulator is not natively equipped with an equation solver as powerful as VISION in 'data-flow' mode. For example, mismatches between circuits and the short-term and long-term memory effects can now be managed properly. This is a must-have to better anticipate the performances of a communication system when DPD algorithms are used on carriers with several hundreds of MHz of modulation bandwidths.
In that matter, VISION is indeed a unique tool that allows unifying a global design process, from the component level, through the circuit up to the system simulation.
VIS100D-1 EM Link New functionalities
Compatibility of ANSYS SNP and ANTENNA blocks with the ANSYS electronic Desktop 2021R2 version
VIS100D-1 EM Link integrates an improved antenna model feature to import and export simulation data from ANSYS electronic Desktop 2021R2.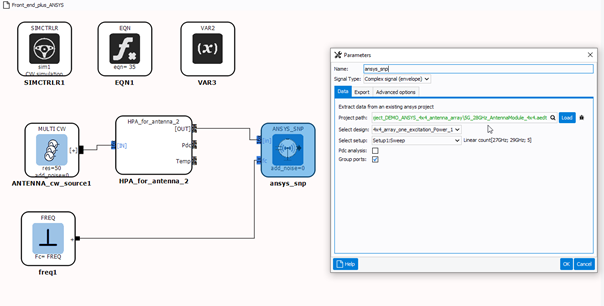 By connecting VISION to a third-party electromagnetic simulation tool, it is now possible to simulate directly from VISION the overall performance of large radiating systems, including the antenna characteristics, and to plot the radiation pattern, taking into account the mutual coupling between the elements and the mismatch effect between the antenna and the front-end.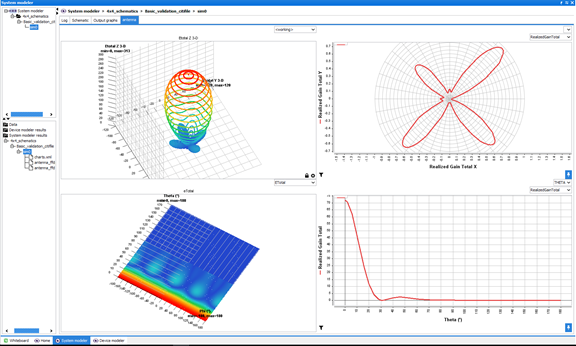 The new file formats generated by ANSYS electronic Desktop 2021R2 are compatible with VISION, allowing antenna model extraction thanks to S-parameters and displaying radiation patterns thanks to far-field data.